Little Cayman
Introduction
Here are two pictures that, somehow, describe the life in Little Cayman: the airport, the grass airfield with a single house which is the post office, the customs and the airport office... and the only road of the island, where iguana have rights over cars!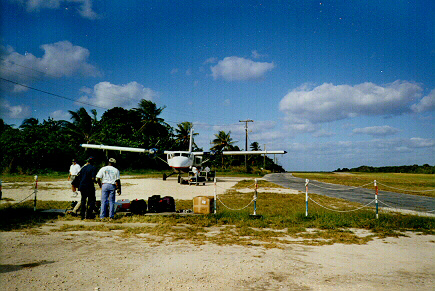 Travel facts
Calendar
| | | | | | | | | | | | |
| --- | --- | --- | --- | --- | --- | --- | --- | --- | --- | --- | --- |
| Jan | Feb | Mar | Apr | May | June | July | Aug | Sep | Oct | Nov | Dec |
Infrastructures
Reef Divers

(diving center)

comments :

As in Cayman Brac, the diving center is extremely well equipped, both in boats and material, and divemasters are really competent. However, the security rules that apply in this center are completely absurd. Diving is limited to 30 meters (general rule in Cayman Islands), but worst of all, no diving is allowed 18 hours before taking a plan (even if the journey lasts 5 minutes, to reach the sister island). And the management of this diving center is obviously not interested in arranging clients' interest: it is not possible to make morning dives on the arrival day (the boat leaves 30 minutes too early, 2 dives are lost), nor afternoon one the day before the departure (even if the plane leaves 19 hours later, which means one more lost dive). It is really a pity that, on an island where there is nothing else to do than diving, everything is done to limit the number of dives.




Little Cayman Beach Resort

(hotel)

telephone

: (345) 948 1033 (from the US: 727 323 8727 or free dial 1800 594 0843)

fax

: (345) 948 1040 (from the US: 727 323 8827)

address

: Box 51 LC, Cayman Islands, B.W.I.

comments :

The hotel and the scuba diving center are isolated together, but surrounded by great spots! Sea can be rather rough sometimes, even preventing from diving...



Diving Sites
description :


This diving site was very recently open to divers, in 1998. Corals are seen from 8 meters, on a sandy slope going down to 20 meters. Lots of corals, mainly soft ones although a fair amount of algae and black corals was also seen. Fauna includes a nurse-shark, a small turtle and some schools of snappers. Current rather strong.




description :


Diving along a more or less vertical wall, in a monotonous landscape, but with interesting fauna: 2 stingrays and an eagle-ray, as well as a small pinnacle filled with 7-8 huge lobsters.




description :


Sandy bottom at 20 meters, with lots of pinnacles. The underwater landscape is interesting, since corals from some tunnel through which divers can swim. There are also a lot of algae in shallow waters. A huge barracuda.




description :


Nice scenery: lots of cracks in the coral and large amount of arches and tunnels that can be visited by divers. We met a lot of small reef fishes (the classical ones), but no pelagic. 7-8 lobsters, a huge crab and a small turtle have been seen close to the hotel.




description :


Mooring on a bottom at 18-20 meters. From there, a deeper depth can be reached by following the ground, which however involves some swimming. Some fish, of course, but no school. We saw a shark - but from a distance. This dive site is not very attractive for the underwater life, and safety stop have to be made under the boat, as no shallow reef is present. At least the location is well protected from wind.




description :


On a flat sandy bottom, at 15 meters, wreck of a transporter which sank in the 60s after a fire on board. This boat was providing the island with fresh food. The

wreck

has a length of about 20 meters, and only few fauna and flora are seen on it. Although it is easy to penetrate it, the interest is rather limited. At 15 meters from the stem of the boat, a reef with nice corals can be seen (one of these corals being really huge, 1.5 meter high with lots of fish around. 1 stingray. Visibility limited due to a mixing of currents, and slightly cooler temperature.